What Makes Orthopedic Shoes the Best Choice for Your Feet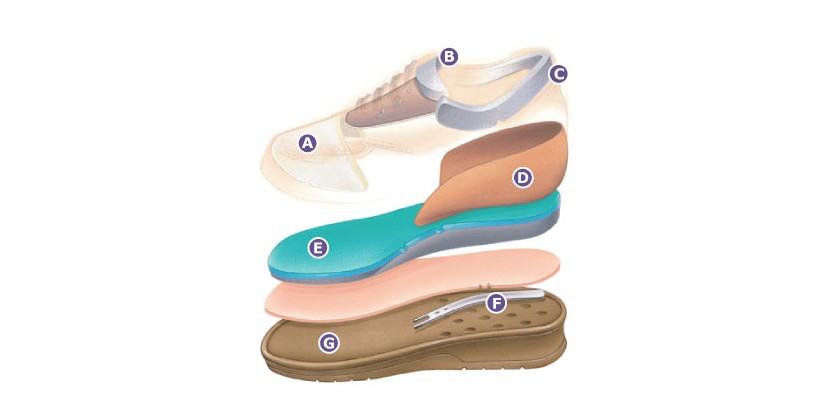 Nearly 65 percent of Americans wear shoes that hurt their feet.  About 30 percent say they wear painful shoes at least once a week, and 12 percent admit they make poor shoe choices on a daily basis.
These troubling statistics from a study by the American Podiatric Medical Association reveal that we are a nation of walking wounded.  When we take the average of 5,000 to 10,000 steps each day in uncomfortable footwear, we can develop a variety of chronic foot problems, including blisters, bunions, corns and callouses, heel pain, and even back problems.
However, you can prevent or improve these problems by paying more attention to the fit and quality of your shoes. In many cases, orthopedic shoes are the answer. Unfortunately, orthopedic shoes have a bad rap in our society. Many of us tend to think of orthopedic shoes as ugly and something that we would wear only as a last resort. 
What Are Orthopedic Shoes?
Orthopedic shoes – named for the Greek word "ortho' for correct and "pedic" for feet – are simply shoes that are designed around the natural shape of your foot to offer stability and comfort for those with foot, ankle, or knee pain. Usually, orthopedic shoes will come in larger sizes and widths to accommodate for foot orthotics and various foot conditions, including bunions, corns, and more. Many stylish orthopedic brands are available in both online outlets and in brick and mortar stores.
Let's look at the features of orthopedic shoes and why they are good for your feet.
Toe box
First, orthopedic shoes offer a wide and deep toe box. Many shoes -- especially those designed for women --cram the toes into too narrow a space. The narrow toe boxes of pointy-toed shoes can contribute to painful foot deformities, such as hammertoe, corns, calluses, blisters, claw toe and bunions.  
An orthopedic shoe's round or square toe box should allow you to spread your toes out comfortably in your shoes with a little wiggle room to spare.  
Tip: A wide toe box is good for people with wide feet at the toe box and/or bunions.
Removable insoles
 Orthopedic shoes usually come with removable insoles. This feature enables you to change the size of your shoes according to the swelling of your feet.  
 Additionally, if your shoes get wet from either weather or perspiration, changing your insoles allows you to keep your shoes dry and comfortable. Dry shoes are an important way of preventing athlete's foot or other fungal infections of the feet and toenail.
 Tip: Removable inserts are good for diabetics and for people who are susceptible to infections.
Heel counter 
Most shoes today are simply too flimsy. Heel counters add stability to a shoe. If you press your thumbs against the back of a shoe's heel and the heel bends inward easily, the shoe does not have a firm heel counter. Look for shoes that resist this pressure with a firm heel construction.
Tip: A firm heel counter is good for people who experience frequent heel pain and who need more stability as they stand or walk. A heel counter can help control the motion of the foot as we walk.
Contoured foot bed 
Shoes should be contoured like the shape of your foot.  Try tracing the shape of your foot onto a piece of paper. Now compare that shape with the shape of those painful shoes you have been wearing. Chances are good that you will see a huge difference in the two shapes.
Orthopedic shoes follow the natural shape of your foot and are designed to fit and support your feet in all its curves.
Tip: A contoured foot bed is helpful for people with flat feet and need arch support. The contoured design will cradle the heel with a deep heel cup and have a raised arch to support the middle of the foot.
Slight heel
Did you know that wearing a slight heel can be good for your feet? Research indicates that a heel height of one-half inch to one inch can actually be beneficial for your feet and your back, since they build balance and muscle strength.
You will notice that orthopedic shoes have a slight lift to them. Podiatrists recommend that you avoid both completely flat shoes and high heels for the best gait support.
Tip: A light heel can help people who suffer from bunions.
Seamless interior
Many cheaply-made shoes have seams and stitches on the inside. By contrast, orthopedic shoes have smooth interiors. Seamless interiors are important for people who have sensitive skin and therefore are susceptible to foot irritation and injury. 
Tip: People with diabetes or lymphedema will benefit from a seamless, soft interior.
Breathable materials
Orthopedic shoes are made of breathable materials that help wick away moisture and help promote air circulation around the foot. 
Avoid synthetic materials and so-called manmade leathers for best breathability.
Tip: Athletes and people who are susceptible to fungal infections will especially benefit from wearing shoes of breathable materials. A breathable mesh upper can promote a healthier environment for your feet while wearing shoes.
Padded tongue
The tongue and collar of a shoe are important for comfort. A quality orthopedic shoe will have a soft tongue and collar that will not irritate the foot.
Tip: People with arthritis and diabetes and others who have sensitive skin will appreciate a softly padded shoe tongue and collar.
The right orthopedic shoe can make a huge difference in your quality of life. Here are some additional tips for choosing the right shoes.
 1. Measure your feet. Feet change as we age. Do not assume you still know your correct shoe size. Also, usually one foot is larger than the other foot is. Measure both of your feet, and then choose shoes to fit your larger foot.
2. Realize shoe sizes vary in different brands. Try both shoes on and see how they feel, no matter what the size on the label says.
3. Take that tracing of your foot with you when you shop for shoes. Place shoes you are considering on top of the tracing, and if the shapes do not match up, don't even try on those shoes.
4. Try on shoes with the right socks. Bring along a pair of socks to wear when you try shoes on. Don't rely on the thin, disposable "footies" many shoe stores offer. They are too thin and therefore will not give you a realistic fit.
6. Stand up and walk around in the shoes. The ideal space between your longest toe and the end of the shoe is a quarter-inch to a half-inch.  Wiggle your toes to make sure there is enough room in your toe box. Also, make sure there is enough room at the toe box and that your heels fit snugly (but not tightly) in the shoes. 
7. Pay attention to width. Do not convince yourself that tight shoes will stretch or loosen up with wearing. Make sure they fit now. Keep in mind that buying wider shoes will not necessarily solve the problem of ill-fitting shoes.
8. Feel and inspect the interior of the shoe, looking for tags, seams or materials in the shoe interior that could cause discomfort or rubbing.
9. Examine the soles of the shoes. Will they protect you against sharp objects, cushion your foot, and offer protection from impact?  Try to test out the shoes by walking on both a hard floor as well as a carpeted floor.
10. Realize well-made shoes will cost more than traditional shoes. However, you will find that they last longer and therefore are less expensive in the long run.

**It is advisable to consult a health-care professional such as a doctor or podiatrist before taking action based on any information found on our website. Our goal is to provide information and educate others on a number of issues relating to foot health, not give medical instruction.
About author:
Derek Roach is a foot health specialist and has worked in the foot health industry for over 10 years. He is knowledge in various foot conditions and shoe features to help with those conditions. Also, he has been quoted on CNN, The Penny Hoarder, HuffPost, Dapper Confidential and other popular publications for foot and shoe-related topics.
---