Shoes for Work: Medical Professionals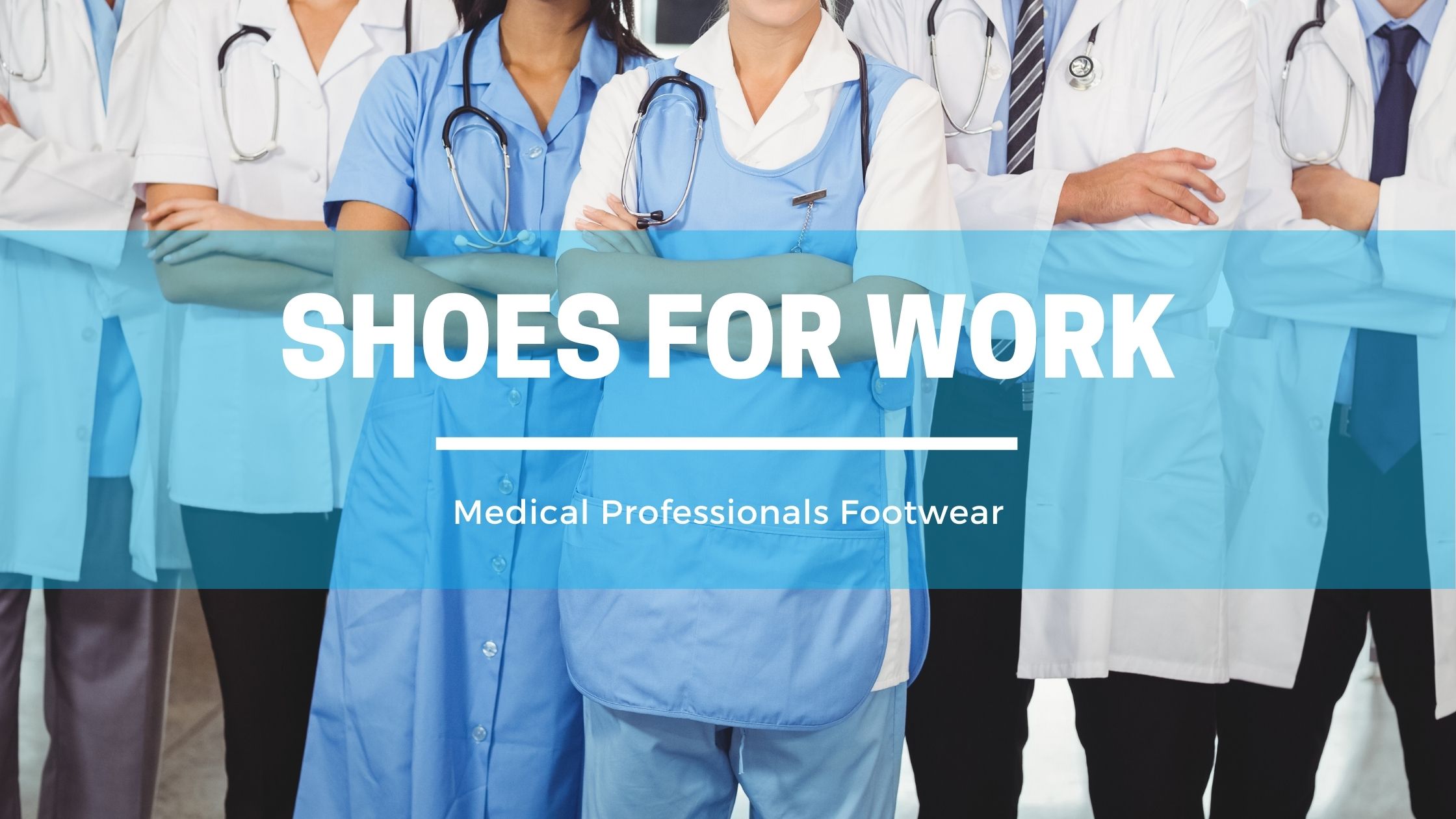 Shoes for Work: Medical Professionals
We understand that as a medical professional, your schedule is extremely hectic to say the least. It could involve anything from sprinting alongside a gurney to staying on your feet for hours on end in the operating room. While a rewarding career, it is also one that puts a lot of stress on your lower extremities. Without the right shoes, you could easily develop achy, painful joints. Fortunately, there are several excellent footwear options that are available- if you know where to look! This article will detail what to look for in your shoes, the best types of shoes for your job, and where to find them. 
What should I look for in my shoes?
When selecting your shoes, there are five major elements to look out for:[1]
Arch support and cushioning:

Arch support and cushioning not only offers comfort but can also improve your posture and prevent pain in your lower back. The cushioning will also absorb impact from being on your feet for extended periods of time. This also prevents your joints from wearing down and becoming sore.

Wide toe box:

During the day, your toes will spread and your feet naturally swell. This can cause foot pain throughout your shift. This can easily be avoided by purchasing shoes with a wide toe box which will give your feet space to expand.

Non-slip:

Rubber soled shoes with good tread are an especially important feature for medical professionals because hospital floors can be slippery. A fall can be dangerous so having traction will lessen the possibility of injury.

Material:

Nurses, doctors, and other medical professionals often must contend with messy bodily fluids. Choosing a shoe made of lighter materials such as mesh does not offer much protection. Leather shoes are a better choice as it is both breathable and easy to clean. The style also looks more professional, making it easy to transition from caring for patients to important meetings.

Socks:

Socks play an important role in the comfort and health of your feet, especially as a medical professional. Breathable, moisture wicking socks cut down on odor and sweat. It is also highly recommended to invest in high quality compression socks. These socks will improve circulation in your legs and reduce muscle soreness at the end of a long day of caring for patients.
Why is this important?
You may be wondering why investing in a higher quality pair of shoes for your job is so important. As a medical professional, there are three key reasons why this is crucial not only for your overall health, but your longevity in the career you love[2]:
Posture support:

The right shoes can promote good posture which is important in preventing leg and lower back pain. As someone who spends half of your day on your feet, your posture is not something you can afford to compromise on.

Arch support:

Stable arch support will add more comfort when you are walking for long hours or running to respond to a code in a busy unit.

Prevention:

Great nursing shoes can prevent many of the health problems medical professionals suffer from such as arthritis, muscle cramps, and lower back pain.
What styles of shoes should I look for?
Now that you know what to look for and why it's so important, here are a few shoe styles we suggest:
Slip-on:

Slip-on nursing shoes have a closed back end like a sneaker, but without the hassle of having to tie your shoe all the time. This is good for nurses because it reduces the risk of cross contamination.

Clogs:

This is a popular style of shoe among medical professionals and is widely considered one of the most comfortable styles. This shoe boasts an open back and a closed front with straps in the back and are ideal for medical professionals who prefer spacious footwear.

Sneakers:

Sneakers are great for fast paced ERs and ICU! These shoes cushion your feet and offer comfort and support when running around the unit.
Generally, these shoes are designed to stand up to a lot of stress and pain are all good choices. Ultimately, your shoes should be durable, lightweight, and preferably slip resistant. We also strongly suggest purchasing two pairs of your shoe of choice, as shoe cushioning becomes compressed after six hours or so and offers no support[3]. Switching your shoes during your workday can help protect the health and comfort of your foot.
We hope that this gives you some insight into what kinds of shoes will keep you healthy while you do the work you love. Thank you for all that you do! We at Flow Feet are here to help you continue to help others!


By Amira Daugherty


 **It is advisable to consult a health-care professional such as a doctor or podiatrist before taking action based on any information found on our website. Our goal is to provide information and educate others on a number of issues relating to foot health, not give medical instruction.
[1]https://theuniformoutlet.com/best-footwear-nursing-shift/
[2]https://www.nursebuff.com/best-shoes-for-nurses/
[3] https://theuniformoutlet.com/best-footwear-nursing-shift/
---
Post comments
Only authorized members can post comments