Top 10 Bunion Shoes For Women – Features Made Specifically For Bunions
What are Bunions?
Bunions are a protrusion of the bone at the base of the big toe (hallux valgus) or little toe (tailor's bunion/bunionettes). A bunion is formed when the metatarsal bone shifts in an outward position and the toe shifts inward. This will cause the bone to stick out causing the skin in the area to be tender and red.
What Causes Bunions?
Bunions can be caused by a variety of factors such as arthritis, abnormal stress or motion on the joint, hereditary from poor foot function (collapsed arches or flat feet), or foot injury. Women are more susceptible to bunions than men and most commonly found in an older demographic. While repetitive wear of shoes with narrow, pointy toe boxes do not directly cause bunions, these types of shoes can increase the risk of developing this foot conditions in those who are prone to bunions.
Will Shoes Fix my Bunions?
Shoes designed for bunions can help prevent the bunion from getting worse. Commonly, the bunion shoes made to accommodate bunions will have a wide toe box and stretch material on the side of the shoe to prevent irritation and friction of the hump as well as slow the severity of the bunion. Also, orthopedic shoes will include supportive insoles for the necessary support in the foot with the bunion, thus providing some therapeutic relief.
Top Women's Shoes for Bunions
We have selected our top styles designed specifically for relief and support for foot conditions cause by bunions. The styles below have been chosen by our team as great solutions for relief from discomfort from bunions.


1. Drew Shoe Savannah
Bunion Severity: Mild to Moderate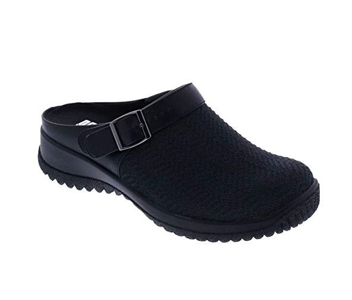 The Savannah is a women's orthopedic clog-style shoe with a single adjustable strap with a buckle closure and two removable foot bed to put in your own orthotics or add more depth to the shoe.
Why We Chose the Drew Shoe Savannah for Bunions:
The Savannah features a stretchable fabric across the top and side of the toe box area. The stretch material is great to reduce any rubbing on the bunion thus providing pain relief. The toe box area is also wide and the spacer insert in the shoe can be removed to make the shoe deeper and dropping your foot lower into the shoe. Also, the clog-style allows to easily slide in the foot without having to angle the foot into a hi-top or lo-top shoe with a chance of rubbing on the bunion.
Drew Shoe Savannah Shoe Features Video



2. Mt. Emey 628-E

Bunion Severity: Moderate to Severe


The Mt. Emey 628-E is a versatile shoe with many features for a variety of foot conditions, including bunions. The shoe includes a leather/lycra upper with a single adjustable strap and a soft padded collar to accommodate foot edema (swelling). The shoe comes with a heat moldable insert that can be removed to include your own orthotics or be kept in and molded to support your feet.
Why We Chose the Mt. Emey 628-E for Bunions:
The Mt. Emey is an ideal choice for severe bunions because of its stretch Lycra® material across the top of the shoe and side slits on both sides. The stretch material in these areas where the bunions are typically located allow for more give in these areas. With severe bunions, toes may begin to crossover or hammertoe, the stretch material on the vamp can also provide give to not rub on the toes. Also, the heat moldable insole can be used for support to help with the natural alignment of your feet.
Mt. Emey 628-E Shoe Features Video
3. Apex Moore Balance

Bunion Severity: Moderate to Severe


The Apex Moore Balance shoe is a unisex shoe (listed in men's sizes) that comes loaded with many unique features to accommodate foot conditions like bunions. The most unique feature of this style is the rear adjustable heel counter that can be tightened or loosened for a better fit at the heel – helping to prevent heel slippage and accommodate AFO. The low-profile heel and extended tongue opening are also great features for those that wear AFOs. Inside the shoe is a removable textured insole covered by a Lycra® stretch material and washable synthetic leather upper. On the bottom is a high-performance, slip-resistant sole that exceeds SATRA and Mark II slip-resistant standards for dry, wet, and oily surfaces.
Why We Chose the Apex Moore Balance Shoe (MBS) for Bunions:
With all the many great features of the MBS, you can expect that its design takes into consideration of foot problems associated with bunions. It's Lycra® stretch material goes all the way towards the back of the shoe for gentle and smooth texture where a bunion or bunionette can be located. Also, the shoe comes with an extra removable spacer that can be left in or taken out to provide more depth in the shoe for proper fitting with bunions. Depending on the severity of the bunion, you may require a wider opening to easily put on the shoe. The tongue of the shoe is extended to pull forward to provide more of an opening at the entry of shoe. Conveniently, a heel counter loop is provided for an easy pull-on feature.
Apex Moore Balance Shoe Features Video
4. Drew Constellation

Bunion Severity: Mild to Moderate

The Drew Constellation boasts of comfort – even for bunions. This mule-style shoe comes with dual criss-cross strap closure that can be adjusted for a secure fit. Also, there is two removable footbeds to make for a double depth shoe. The top footbed provides a cushioned metatarsal and heel pad as well as added arch support. The outsole is a flexible, lightweight rubber that makes it easy on your feet with each step. This shoe is made for long durations of wear to help with foot discomfort.
Why We Chose the Drew Constellation for Bunions:
The main feature that makes the Constellation a good choice for bunions is the wide toe box area and soft interior lining. The Constellation can accommodate mild to moderate bunions with the breathable mesh material across the wide toe box area. You can expect limited rubbing for help with bunion pain relief and a supportive insole to ergonomically position for your feet for added comfort and foot health.
Drew Constellation Shoe Features Video
5. Drew Quest

Bunion Severity: Mild to Moderate




The Drew Quest has a classic design with a large, single strap and stretch material at the vamp of shoe for a variety of foot conditions. This style features two removeable inserts to make for an added or double depth shoe. The top footbed is a Drilex® lined, supportive insole and the bottom is a thin spacer insole to adjust the depth of the shoe. One or both insoles can be removed to adjust the depth in the shoe to your liking. Available in Black Leather/Black Stretch or Taupe Leather/Taupe Stretch.
Why We Chose the Drew Quest for Bunions:
The flared outsole feature on this shoe allows for more width in the toe box area. This design is a good solution to accommodate for mild to moderate bunions. The wide toe box will help reduce painful rubbing that can irritate bunions. Also, the single strap makes it easy to undo and pull the tongue forward for a larger opening when inserting the foot. This can help getting a foot with bunions inside the shoe while minimizing rubbing against collar or sides of shoe while inserting foot.
Drew Quest Shoe Feature Video
6. Drew Excel

Bunion Severity: Mild to Moderate




A versatile, comfort active shoe designed for a light walk, jogging, or running. Comfort features from heel to toe, including a firm heel counter, padded collar, and breathable, soft fabric lining. The Excel offers therapeutic support with its arch-supporting, heel cushioned removable insole. The rubber outsole is designed with a rocker bottom to help with forward propulsion in the gait cycle. Available in a Black Mesh, Navy Mesh, or Garden Print Mesh.
Why We Chose the Drew Excel for Bunions:
The Excel is a great choice to stay active with foot bunions. The shoe features a stretch material at the front of shoe along top and sides to accommodate for foot conditions like bunions. The stretch material at the side will be gentle solution on moderate to severe bunions. Plus, the inner soft fabric lining can help reduce any painful rubbing or irritation. The removable insoles will also help with natural alignment of your foot to stop worsening of the bunions. The all-around maximum padding along with a combination of mesh/stretch material uppers makes this style excel in the women's bunion shoe category.
Drew Excel Shoe Features Video
7. Dr. Comfort Lana

Bunion Severity: Mild to Moderate

A comfort sandal with a classic design with plenty of unique features. The orthopedic design of the Lana includes a removable gel cushioned insert and stretchable Lyca® material at the sides. The two top straps feature a contact closure and the heel strap is an adjustable buckle to get the perfect fit for your foot. Available in Brown or Black color options.
Why We Chose the Dr. Comfort Lana for Bunions:
Unlike many other women's orthopedic sandals, the Lana features a stretch material on the sides of the sandal. This design helps accommodate foot deformities like bunions. You can still get strap sandal design that is accommodative to bunions. Also, if you require your own orthotics to help with foot support, you can remove the gel insert and put in your own orthotic. This style is a great choice for casual summer outings that can lessen discomfort experienced from bunions.

Dr. Comfort Lana Shoe Features Video
8. Orthofeet Coral

Bunion Severity: Mild to Moderate



Orthofeet is a popular orthopedic shoe brand because of its numerous therapeutic features included in all their styles. Specifically, the Coral comes standard with removeable anatomical inserts that form to your feet while wearing. The inserts are padded from heel to toe and include a foam heel cushion to absorb shock with each step. Also, the Coral comes with two spacers (1/16" and 1/8") to adjust the depth in the shoe. Available in Extra Wide widths and multiple colors to provide for a wide toe box area. The outsole is lightweight and provides a springy, cushioned feel while helping propel the foot forward while walking.
Why We Chose the Orthofeet Coral for Bunions:
The features of the Coral were made with bunion accommodation in mind. From the seamless, soft interior lining to reduce friction and breathable, stretchable knit upper materials to allow some give where a bunion would be located. A wide toe box comes standard with Orthofeet styles which is a great feature for bunions. The anatomical inserts will help provide the support and alignment your feet need to prevent the bunions from getting worse. We suggest the Coral for those with bunions and want to maintain a casual active life.


9. Propét Olivia

Bunion Severity: Moderate to Severe



A blucher style women's casual shoe that is lightweight and low-profile. Featuring a single strap closure and double removable insoles to allow for adjustable depth inside the shoe. The shoe also has an oblique toe shape for a wider toe box area. At the vamp, the shoe is made with a stretchable leatherette upper that is soft to your feet and allows some give in the toe area. A popular choice for its XX-Wide shoe width options and multiple color options (Black, Bone, Bronco Brown, and Taupe).
Why We Chose the Propet Olivia for Bunions:
This lightweight women's casual shoe is a popular choice for bunions due to its wider base, XX-Wide (4E) shoe width options, and stretchable leatherette vamp uppers. These features are ideal for those with bunions to provide ample room in the toe box and a soft, stretchable material to help reduce friction. The lightweight design lets you be light on your feet to keep going without discomfort during wear. We suggest the Olivia for those with moderate to severe bunions.


10. Propét Travelbound (or Travelbound Strap)

Bunion Severity: Mild



The Travelbound (also available in strap version: Travelbound Strap) is a lightweight, stretchable women's active shoe. This style features knit mesh uppers with elastic toggle laces for easy tightening and loosening of the shoe. The EVA midsole and EVA/rubber compound outsole keep the shoe lightweight to provide comfort for all-day wear and makes the shoe flexible.
Why We Chose the Propet Travelbound for Bunions:
If you have mild bunions and are looking for a walking shoe, the Travelbound (or Travelbound Strap) has all the ideal features to keep you staying active. The stretchable knit mesh uppers give some give at the toe area and are soft where bunions are located.

**It is advisable to consult a health-care professional such as a doctor or podiatrist before taking action based on any information found on our website. Our goal is to provide information and educate others on a number of issues relating to foot health, not give medical instruction.
---