Remember when you first bought your favorite pair of sneakers? They felt so good; every time you went walking it felt like stepping onto a cloud. The relief you felt in your feet, legs and even your back made you practically want to sleep in them.
But that was some time ago, and now when you go walking, your old favorites are probably less comfortable than the box they came in. The insoles feel worn away and it practically feels like you're walking barefoot on concrete. Even if it's not that extreme for you yet; If you don't feel the same support you felt when you first started wearing your shoes it's probably time to make a change.
The unfortunate reality is that even the best shoes don't last forever. The amount of wear and tear, the condition of your own feet and the structure of the shoes all dictate a certain lifespan for a shoe. But how do you decide when to replace your shoes? Here are a few things to consider:
How long should my shoes last?
The life of a shoe is mainly in its soles. The average pair of walking shoes has about 300-500 miles of optimal performance in them. Determining how long you will be able to use your shoes is based on how often you wear them, the weight of the wearer and pronation of the foot, and if used in accordance with the manufacturer's suggested use.
For example, if you were to use running shoes in a rough terrain such as hiking in a rocky area, the tread on the soles may wear out quicker. Additionally, improper fitting shoes can wear out the uppers from too much rubbing and friction.
Sedentary to Moderately Active People
If you're not active daily, but you wear your shoes daily for things like going to work, walking around the grocery store etc., you will probably not need to replace them for 6 – 12 months. If you walk a few times a week or attend a few exercise classes, you will probably begin to feel the changes at about six months.
Athletes, Fitness Lovers & Highly Active People
If you're the more active type – a power walker, runner, aerobicizer or lifter – your shoes will need to be replaced sooner, because their parts will be worn down much quicker. Running shoes, as a general rule, should be changed when they have reached 300-450 miles. Though you may be using a pedometer or the reader on the treadmill to tell you how far you've walked or run, the real gauge should be how the shoes feel. When they are reaching the replacement stage, you will feel much less supported – they will not return the same bounce when you make contact with surfaces, and the stability of the upper will begin to give way.
Aside from fitness walking and running, other athletic activities can wear down other parts of the shoes. Jumping, lunging, various kicks, etc., will stretch and wear down the structure of the front and sides of your shoes, breaking down the sturdy construction that supports the ankles and heels. Constant stretching will also thin out the lining, causing holes in the insoles. The most important thing you can do for your foot health is watch for signs of wear and tear.
What does wear and tear look like?
A shoe is made up of many smaller parts. It is important to not only watch for general wear and tear, but for wear in certain parts of the shoe, which might mean you need another type of shoe that suits your body mechanics, health profile, and weight.
For the purpose of replacement, here are the things to watch for on the main major sections: the outer sole, the midsole, and the upper/interior.
Outer Sole – The bottom part of the shoe that makes direct contact with the ground
Sole is thin or cracked in one particular area
Shoe tips or rocks back and forth when placed on a flat, level surface
Back of shoe or bottom are considerably more worn down than other parts of the shoe.
The outsole will show a wear pattern depending on your pronation of the foot (the movement of the foot while walking/running.) The different types of pronation include: overpronation or Ankle Valgus (ankle roll in), normal pronation, and supination or Ankle Varus (ankle roll out). Below are some examples for each pronation of the foot. Please note each color change which indicates corresponding wear pattern.
Overpronation Wear Pattern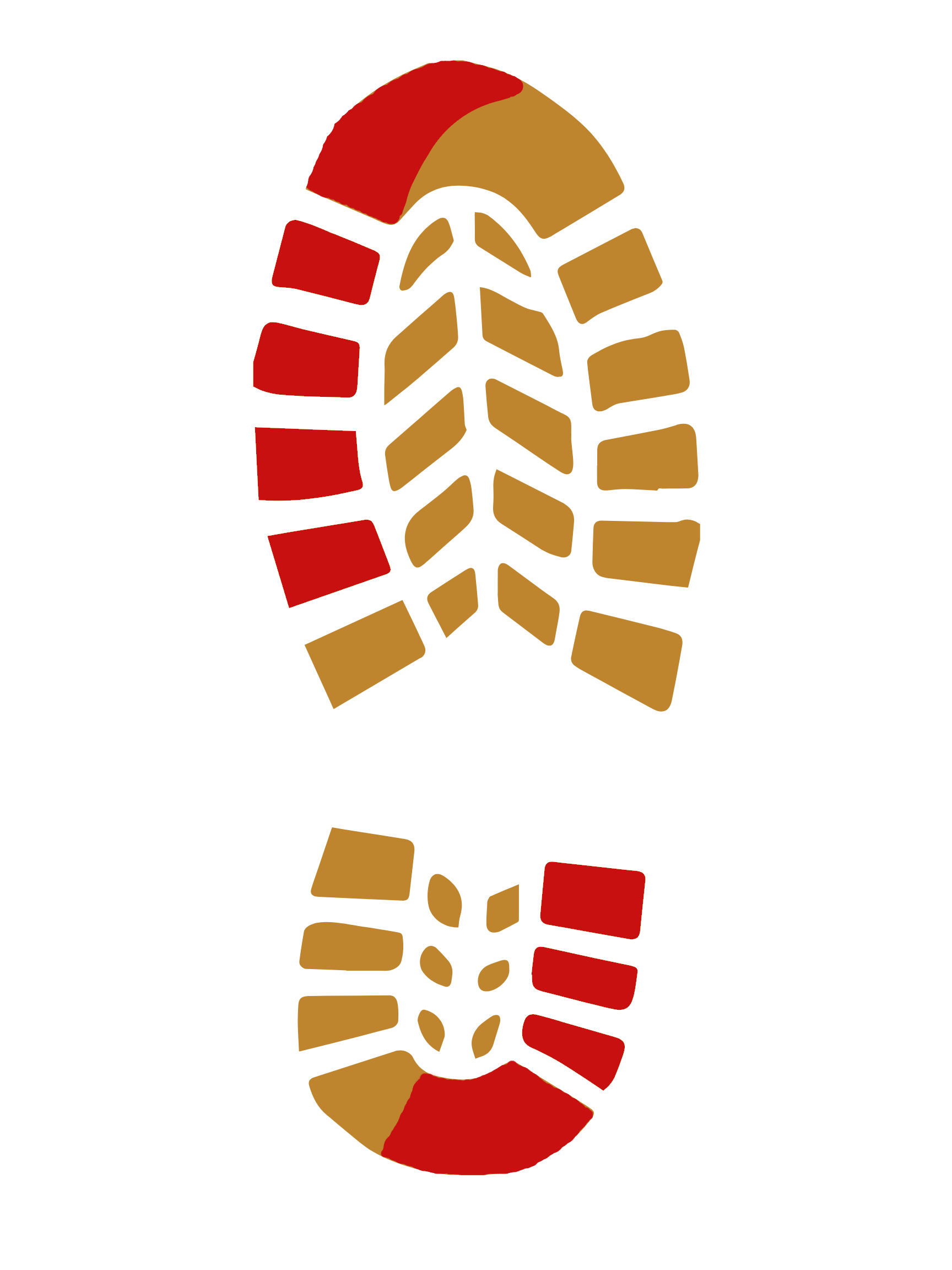 Normal Pronation Wear Pattern
Supination Wear Pattern


Midsole – The shock-absorbing, cushioning layer between the outer sole and the upper.
The foam (called ethyl vinyl acetate or EVA) begins to compress
Visible creases and wrinkles develop under your foot
Audible creaking during use
Upper & Interior – The material covering the toes, top and sides of the foot, and the back of the heel.
Bent or misshapen shoe, especially compared to the shoe's original look
Look for any holes or unusual wear
Excessive heel counter wear on the inside back – if your heels are worn in less than six months, the structure of your shoes may be wrong for your foot.
Paying close attention to the wear and tear on each part of your shoes will tell you when it's time to go shoe-shopping. If you are an active person, consider buying a couple of pairs of your perfect shoe. You can alternate to extend the life of your shoe, or have a ready replacement when the time comes.